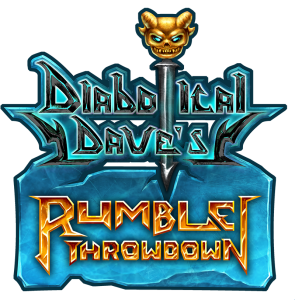 Have you ever dreamed of looking up from the middle of the squared circle, flexing for the out-of-control crowd under the blinding glare of the spotlights as the ringside announcer calls our your name?
It's all here in Diabolical Dave's Rumble Throwdown. You'll work your way up through the ranks, competing with a colorful roster of superstar rosters alongside your biggest competition – the other players at the table. Earn the adulation of the crowd as one of the faces of the federation, or their ire as a hated heel. Tailor your wrestler with different styles, like the acrobatic flyer or the gritty brawler, moves, gear, and even weapons you might find lying around the ring to work toward your ultimate goal – becoming DDRT's World Champion!
Diabolical Dave's Rumble Throwdown is a competitive card game that captures the excitement of the golden era of professional wrestling. With over-the-top action, unique superstar opponents, and other players providing move-by-move commentary for every match, DDRT delivers action and humor at every turn.
DDRT is currently undergoing development and play-testing. We hope to launch a crowdfunding campaign in early 2023.